PBD IRP Vortech V3 JT Trim Supercharger System for 2011-2022 Mustang GT
Part Number
VOR-PBDIRP-11plus-2
Palm Beach Dyno Inflation Relief is HERE!!!! We have configured the perfect starting point for your boost journey that allows you to upgrade over time! All Palm Beach Dyno IRP kits come complete and ready to run INCLUDING a Palm Beach Dyno Remote Tuning session!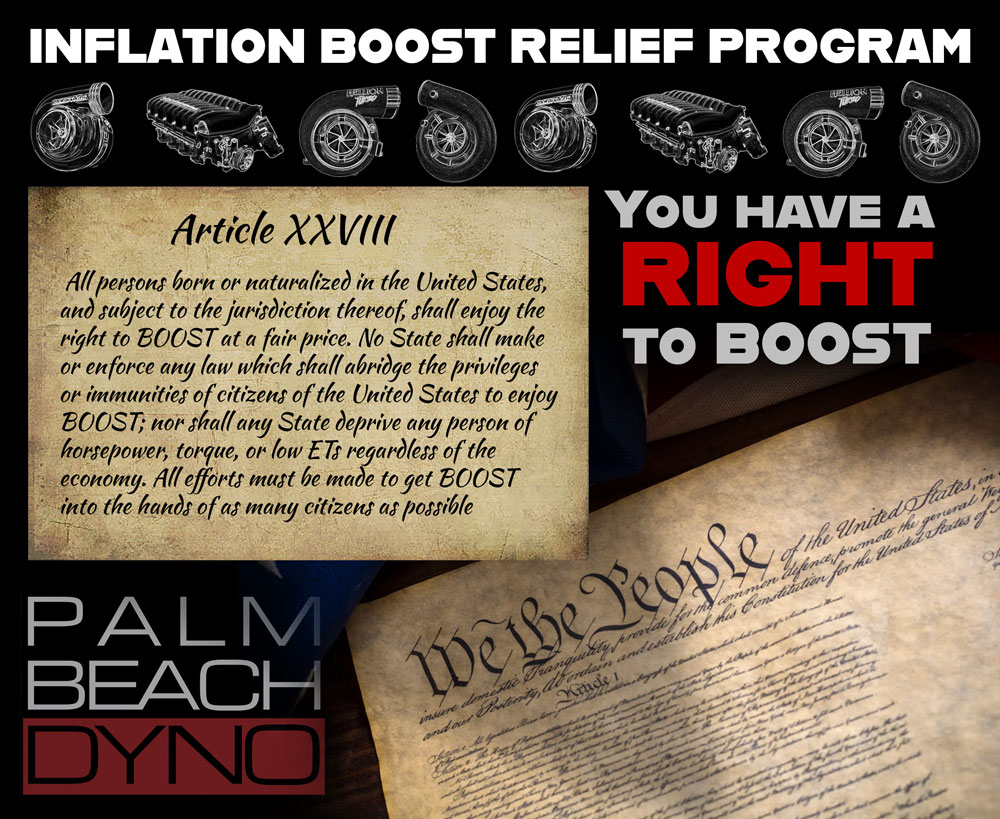 WHAT'S INCLUDED:
Vortech V3 JT Trim Supercharger System
56 lb/hr Fuel Injectors
Palm Beach Dyno Remote Tuning
Easy install with common hand tools
No cutting required, 100% bolt on and reversible
The Gold Standard in 5.0L Supercharging since day 1, no power adder company takes the Coyote powerplant to the next level of performance like Vortech. For more than 30 years, we have demonstrated our product leadership with our wide range of super-efficient centrifugal superchargers. From complete, 50-State emissions-legal systems, to the quickest and fastest supercharged Coyote Mustangs on the planet, Vortech has you covered.
692HP - The complete system will boost your stock 5.0 GT to 692HP and 584 LB/FT Torque with 7.5 to 8.5 PSI from the V-3 JT-Trim Supercharger at factory redline using CA 91 Octane fuel.
Complete, fully calibrated supercharging systems are available for the 6-Speed Manual and 10-Speed Automatic 2018-2020 5.0L Mustang GT, featuring the V-3 JT-Trim centrifugal supercharger with air-to-air charge cooler.
The complete system will boost your stock 2018-2020 GT to 692 HP and 584 lb/ft torque with 7.5-8.5 PSI from the V-3 supercharger at the factory redline.
The 2018-2020 Mustang GT system uses Vortech's V-3 JT-Trim supercharger. Continued development in Vortech's Lab resulted in the V-3 JT-Trim. With its new patented oil control system and state of the art centrifugal compressor stage this V-3 literally blows away the competition. Industry leading 76% adiabatic efficiency [SAE J1723 standard] means less heat is being generated, drive power is reduced and more net power is produced. Less heat also means better durability. Also, Vortech's supercharger systems weigh less than half of the low-tech competing brands.
Vortech supercharger systems are a great value. Dollar for dollar, Vortech systems deliver more horsepower than virtually any other method of upgrade. Also, driven normally, gas mileage often increases rather than decrease.
Palm Beach Dyno Inflation Relief is HERE!!!! We have configured the perfect starting point for your boost journey that allows you to upgrade over time! All Palm Beach Dyno IRP kits come complete and r
More Information

| | |
| --- | --- |
| Price | $6,850.00 |