K2 Fuel Pump Booster Instructions
The K2 Fuel Pump Booster is designed for late model Ford vehicles as a way to extend the capabilities of the stock Ford Fuel Pump. This is accomplished by raising the voltage to the Fuel Pump Driver Module.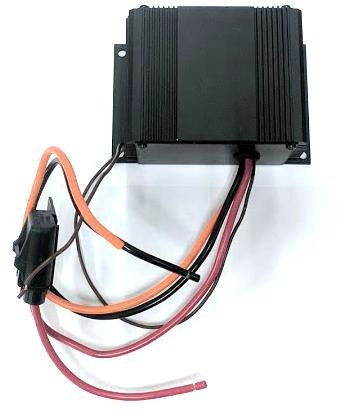 This device is intended to be installed in the trunk or under the back seat depending on the year of the car and preference.
When installing this device, it is recommended to switch the fuel pump fuse in the cars fuse panel to 30 amps if it comes with a smaller fuse. Refer to the vehicle owner's manual for details on the location of this fuse.
General Installation Notes:
This device is extremely easy to install. There are 4 wires on the unit:
Red – This is the supply voltage to the unit
Orange – This is the output of the unit and goes to the FPDM
Black – This is the ground for the unit & should always be grounded
Brown – Can be used to turn off the voltage boost (not used in most applications)
Please see the next page for specific instructions for a 2011-2017 Mustang GT installation
Vehicle Specific Instructions - 2011-2017 Coyote Mustang GT
The FPDM (Fuel Pressure Driver Module) is under the rear seat on the
driver's side on a 2015+ Mustang and in the spare tire well on a 2011-2014 Mustang.